Shutterfly, Inc
As a senior designer at Shutterfly, Inc., I use UX and visual design to solve problems plaguing the MyPublisher brand.
Shopping Cart
Creating a consistent checkout experience for the MyPublisher Customer.
Customer Service
Reducing Customer Service contacts ahead of a busy holiday quarter.
User Information
Consolidating account information and improving ease of access.
content coming soon
Branding
Using UI patterns and consistent styling choices to strengthen the brand image.
content coming soon
Problems
The shopping cart experience varies product-to-product. The inconsistencies are confusing for returning customers — different promo placement, different default selections, different layout — and clunky for development (as each experience was coded separately and pulling data in different ways).
Shopping cart breadcrumbs do not accurately reflect the numbers of steps/clicks in the checkout process.
MyPublisher customers are extremely promo driven, and most will not purchase without using a promo code (Less than 10% of customers checkout without using a code). To avoid abandoned carts, the promo and code are displayed during the shopping cart experience. However, codes are displayed at a very small size and as an image vs. live text; therefore, the user is unable to copy and paste the difficult-to-read promo.
Current button placement allows the customer to advance through the cart without reviewing their customization selections, which could lead to:

The customer being unhappy with their selections when they have reached the final review step of the shopping cart.
MyPublisher missing out on revenue opportunities as the customer bypasses upsell options. For example, every time a customer skips over page-binding options, the company misses a chance to earn an extra $45/book.

Customization options that aren't available (for example, standard paper on a Deluxe Photo Book) appear to be selectable.
Examples of Problems
Solutions
Identify common pages across products so that we could create a consistent experience.
Work with dev and products owners to improve shopping cart functionality, specifically the addition of an add promo to cart button.
Make breadcrumbs adequately reflect the proper number of steps.
Require user to actively make decisions about their products.
Shopping Cart User Flows
Customer Service Contacts
Goals
Reduce customer service contacts, particularly phone contacts, by making it easier for customers to troubleshoot problems themselves.
Problems
The site has multiple 'contact us' pages with different information.
A customer has to visit multiple pages before they can search for a solution to their problem.
Examples of Problems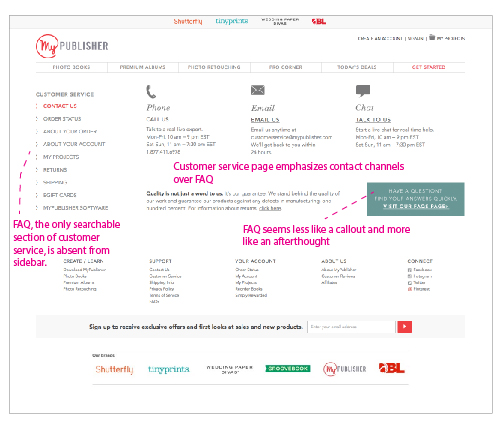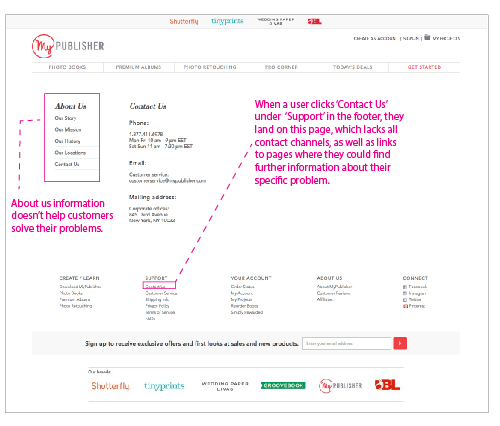 Solutions
Make search prominent on both 'Contact Us' and 'Customer Service' pages.
De-emphasize contact channels. And when showing contact channels, push email.
Prioritize trouble-shooting information over contact channels on all customer service sections.
Sketches